Amish on impossible
Our lads play ambassador and 'have some crabs'
"So do they speak English in England?" asks the Amish teacher innocently, as we sit down to dinner. 

It sounds a ridiculous question, but when you have no access to TV or the internet, and boarding an aeroplane is strictly forbidden, "England" might as well be Mars.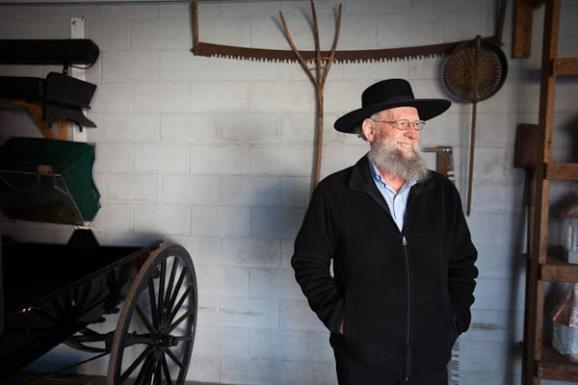 David Fiedler, an Amish guide in Lancaster County, Pennsylvania
The eight silent children, lined up politely in descending height order across the table, are certainly staring at us as if we're from another planet.
It's day five of our breakneck tour of America and we've arrived in Pennsylvania - our 10th state - by way of Maryland and Delaware. We're in Lancaster County to be precise: the heartland of America's Amish community.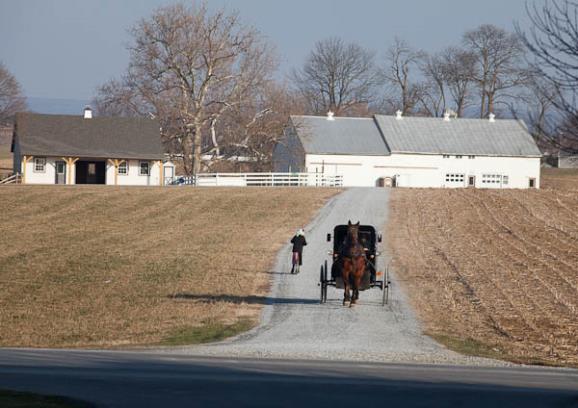 A girl on a scooter passes a traditional Amish buggy on a farm road in Pennsylvania
In the former, we stopped for dinner at a 70-year-old crab shack in the coastal town of Havre de Grace, and unwittingly picked up a third member of the team: whiskey swigging local goldsmith, harmonica player and force of nature Wayne Werner. 
After showing us the correct way to dismember our dinner ("Hey, having crabs is a very social thing"), Wayne insists on taking us to a Blues bar across the border in Delaware, where he strolls straight up onto the stage and joins the startled band, harmonica in hand. 
Luckily Wayne has the musical talent to match his bravado, and soon the bar is rocking, with our new friend at the heart of the action.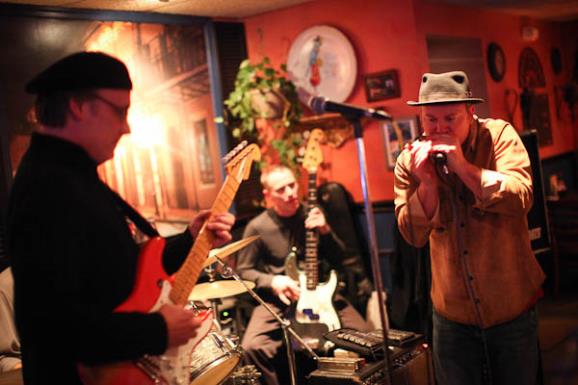 Wayne Werner (right) joins the band on stage in a bar in Wilmington, Delaware.
Our time with the Amish - once we've bid Wayne a fond farewell - is a completely different experience. 
After a lesson in driving their horse drawn 'buggies' (surprisingly easy) we are asked to help milk the cows (surprisingly hard) before sweeping the barn and then sitting down to dinner with Steve and Martha Stoltzfus and their eight immaculate children.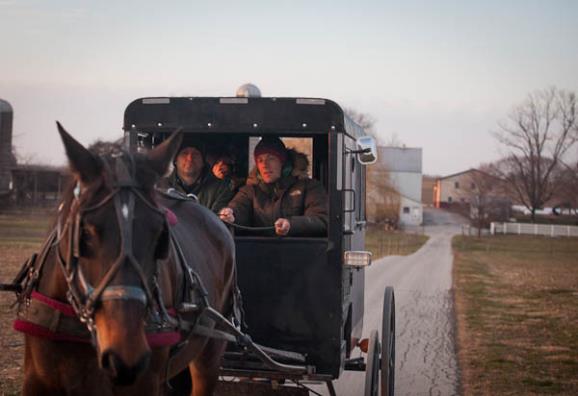 Jonathan receives a lesson in Amish buggy driving 
The conversation is fascinating - from the youngsters' fondness for Amish volleyball tournaments, to the parents' uncertainty about whether the British royal family are fact or fiction. 
Wayne Werner and the Stoltzfus family are so different that in American terms they might as well represent Hawaii and Alaska. But they also have an awful lot in common. 
For two consecutive nights, we've been warmly welcomed by local people, who've gone out of their way to help us experience their way of life first hand. On both occasions, they were strangers at the start of the evening and bona fide friends by the end of it. 
Perhaps this mad mission to hit all 50 states in 30 days won't be so impossible after all.
Do it Yourself
Create your own adventure in Pennsylvania: Steve and Martha Stoltzfus, along with their family of eight children, are wonderful hosts with a guesthouse and idyllic self-catering cottage in Lancaster County.

Rooms at the Homestead Guesthouse are from £92 per night. For the best way to explore Amish country, try an Amish Buggy Ride – a horse-drawn carriage with an Amish tour-guide. A one-hour tour costs approx. £6 pp. Combine a visit to Lancaster with the historic and vibrant city of Philadelphia. Flights from £448 at www.americanairlines​.com 

You can follow our adventure  - and win a holiday of your own to the US - every day in January at www.AA.com/UnitedSta​tesofAdventure 
To plan your own holiday to the US, visit www.discoveramerica.​ com