Planes, trains and jet packs
The lads create a stir in Honolulu, Hawaii
Days in US: 1
States visited: 1
Number of times mistaken for Australians: 2
Modes of transport: 6 (plane; car; bus; boat; jet pack; surfboard)

It's day one of our breakneck tour around the United States, and by my reckoning we've already clocked up five different modes of transport. 
It's the fifth one in particular that's creating a stir around me - both in the ocean itself and on a number of passing boats. 

This is Hawaii, the first of our 50 States, and I've found the perfect way to decimate any lingering jetlag after our long flight over from London: the Jetlev R200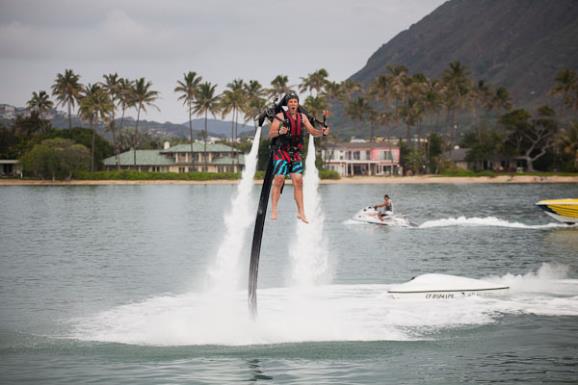 Jonathan rises out of the Hawaiian water strapped into a Jet Lev. 
Built as an homage to the jet pack that Sean Connery's 007 flies in the opening sequence of Goldfinger, the JetLev is propelled skywards by two powerful water jets. It's superb fun to fly once you get the hang of the steering, but I do have to grapple with my fair share of ...ahem... Skyfall first.  At least the water's nice and warm. And soft to land in. 
After parking the JetLev and checking into our hotel - The Outrigger Waikiki Beach -  (www.outriggerwaikiki​hotel.com), we make the short drive west out of Honolulu to Barber's Point for a surf lesson.
Hawaiian Fire (www.hawaiianfire.com​), one of the island's biggest surf schools, run two classes a day from this sheltered, idyllic beach and can boast alumni - former 'members of the board' if you will - ranging from Mena Suvari to the mighty Chuck Norris.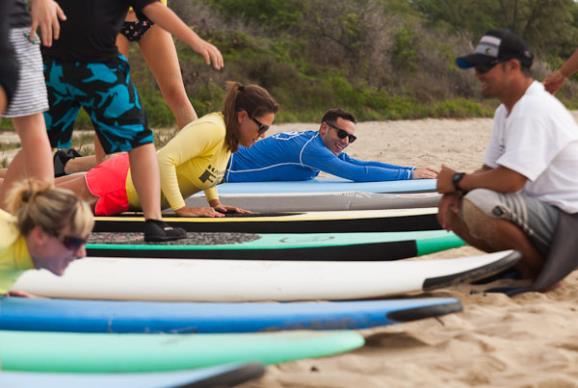 Jonathan gets some instruction from the Hawaiian Fire Surf School.
Either the teaching is extremely good or the Jetlev has imbued me with some serious balance and confidence, because I'm up and riding on my first wave, and spend two happy hours repeating the feat in the sunshine. (It probably has a lot to do with the fact that none of the waves here get much over  four foot too!)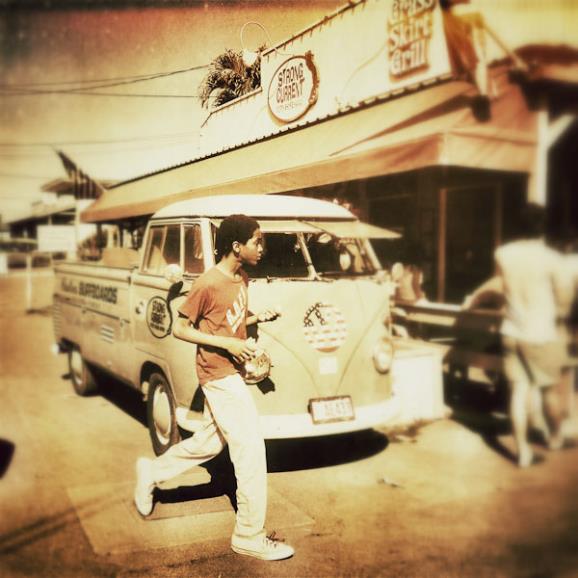 An old VW Camper parked up in Haleiwa on the Hawaii's North Shore.
Later, we drive up to Oahu's famous North Shore to see some "proper" waves hammering the coast near Haleiwa like heavy artillery. The waves here are so big that even vastly experienced surfers have to be 'towed in' with jet skis to ride them. Yet another mode of transport for the day? I think I've ridden my luck enough. It's time to fly onto our second state, California...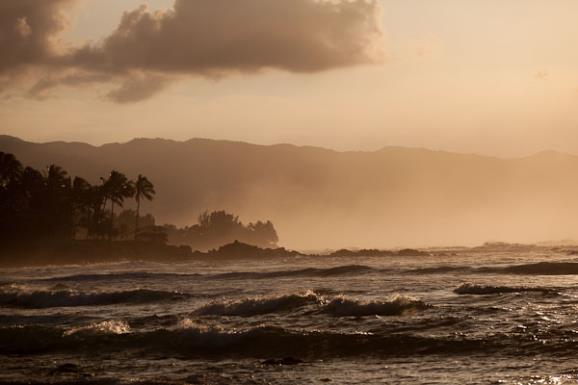 The sun sets over the famous big waves of Hawaii's North Shore.
Are you sure you want to delete this comment?