Cowboys and British folk
The boys spend a day at a ranch and finish at Gordon Ramsay's crazy Vegas pub
Speeding down the cavernous, gaping maw of the Grand Canyon in a helicopter feels a lot like being in a film. Actually, it feels like being in a lot of films: from Honey I Shrunk the Kids to Innerspace, with a healthy sprinkling of the podrace from Star Wars: The Phantom Menace.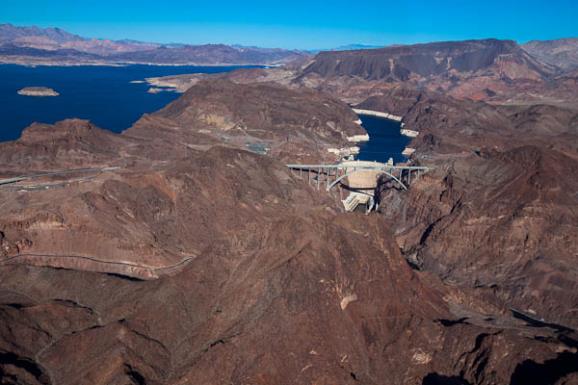 Visitors to the Grand Canyon Ranch pass over Hoover Dam in a helicopter
Our hosts for this 45 minute cinematic uber-flight are Heli USA Airways (www.heliusa.com), who operate 70 "birds" out of Las Vegas - and there's not a single feather boa in sight. 
Our destination this afternoon is Grand Canyon Ranch, which sits almost directly on the Nevada-Arizona border. To get there, we fly directly through the Grand Canyon itself -  one of the Seven Wonders of the World.   
We're in luck when we touch down at the ranch too. The owner - amiable Mancunian multi-millionaire Nigel Turner - is on the property today. As we step off the helipad, our fellow Brit strides towards us, leather coat swirling and spurs glinting in the golden sun.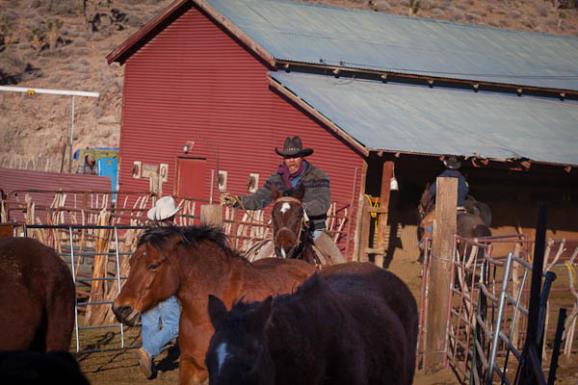 A Grand Canyon Ranch cowboy rounds up the horses 
The ranch is absolute fun. We ride away from the helipad in covered wagons, bouncing our way up to the main house, where we're served a cowboy feast of hot beans, corn and beef.
Afterwards, we saddle up and ride our own horses to a vantage point overlooking nearby Spirit Mountain - a sacred place to the local Native American Indian tribes - as dusk starts to clear its throat.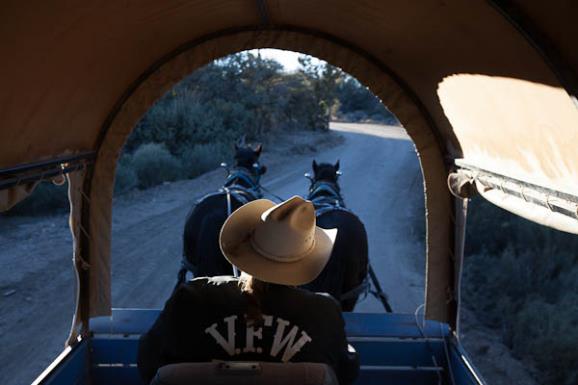 Visitors are driven to the ranch in the back of a horse-drawn wagon

With four tourists from Guildford riding back to Las Vegas in the helicopter alongside us, the pilot jokes he's aiding and abetting a British invasion of Sin City. It's ironic, because tonight we're eating at the hottest new restaurant on the strip: Gordon Ramsay's 'Pub and Grill' at Caesar's Palace (www.caesarspalace.co​m)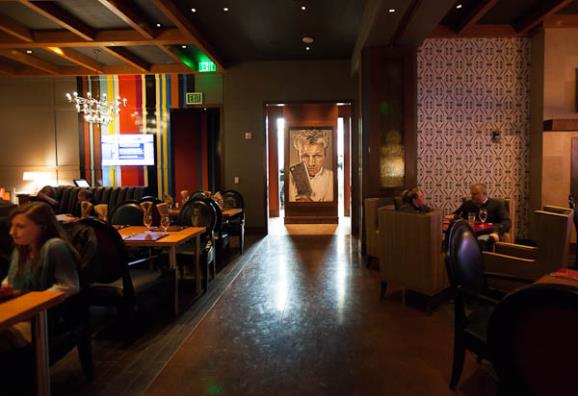 Inside Gordon Ramsay's Pub and Grill at Caesar's Palace

As the slot machines sing and laugh at their endless conveyor belt of hopeful duellists, we sip Boddingtons and eat shepherd's pie under two enormous posters: one of Matt Goss and the other of Rod Stewart. It's rather odd.
Today has been hectic to say the least  - but also the best day of our month-long adventure so far. At the end of a long day on an Englishman's cattle ranch in Arizona, then in a Brit-smitten Super Casino in Vegas, it's like we never left home. We still have nearly a while until we see Old England again though, with no less than 46 states to go... 
Do it Yourself
Perfectly positioned, a little beyond the brightest lights of The Strip, The Hilton Grand Vacations Suites Las Vegas costs from £80 per suite per night. 

An easy day trip from Las Vegas, see the stunning Grand Canyon from the sky with a helicopter ride from £170 pp with Heli USA. Combine this with a true cowboy experience at The Grand Canyon Ranch, (www.grandcanyonranch​.com) Gordon Ramsay has just opened Gordon Ramsay's Pub & Grill at Caesar's Palace (www.caesarspalace.co​m)
You can follow our adventure  - and win a holiday of your own to the US - every day in January at www.AA.com/UnitedStatesofAdvent​ure 

Just been there last week,Vegas and Grand Canyon, then Scottsdale, Palm Springs, San Diego, stayed in-La Jolla which was great and Los Angeles for the last day and fly home. Los Angeles is rubbish but Beverley Hills/Wilshire Boulevard is amazing. Everyone MUST see The Grand Canyon, we stayed at the original lodge, now  Heritage protected, El Tovar, built in the late 1800's right on the rim of the Canyon. Vegas is ok for  a few days only in my opinion, but La Jolla and the down coast was great, it and the Grand Canyon deserve more than one visit. Virgin in to Las Vgas and out of Los Angeles via our Hire SUV, fuel at $2.89US Gallon average!!!!
Are you sure you want to delete this comment?