Sarah is battered by a tropical storm but is safe and sound
Japanese coastguard rescues her - the story so far
Sarah Outen's team have posted the following: "While on her solo row across the North Pacific Ocean, Sarah has been hit by the tropical storm, Mawar and her boat, Gulliver, has rolled on several occasions. The boat has been damaged, the extent of which is as yet unknown. The team has however spoken to Sarah and she is safe and doing well.
"Following an emergency call from Sarah, the Japanese Coast Guard sent a plane to assess the situation and is now sending a boat to pick Sarah up on Friday pm JST, 8th June, 2012. A Coast Guard plane is staying overhead to keep an eye on Sarah."

Here is the last post before her dramatic rescue:

Day 24 at sea: Okay Rosie, we're ready for you

Waiting for Rosie is a weird mix of adrenaline, calm and anticipated fear. The latest forecast is that the currently mixed up light winds will remain for another few hours before everything starts  building. By  lunchtime tomorrow we will have 45 knots with gusts of 55, later peaking at 55 knots with gusts of 60. There will be forty eight hours of that madness before everything starts dropping, bit by bit. That Rosie is a windy lass…
 
I am calling the storm Rosie now, in a bid to befriend her. I don't usually shout at storms or the sea but maybe I will this time, now that I know she has a name. (The system is Typhoon Mawar – the latter meaning Rose in Indonesian). I am rather hoping that all of the models turn out to be wrong and that Rosie wanders off to play elsewhere.  Or that she turns out to be like the Rosies I know who are all rather lovely and lots of fun. Keeping a level head on, however, as to the likelihood of either of those scenarios, I have prepared for the worst conditions possible. Needless to say I shall not be blogging until it is all safely over and we are happily out the other side.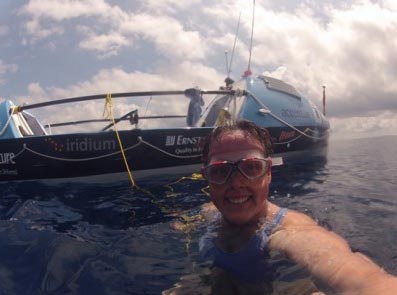 My first ocean swim.....
 
In other very fantastic news… today I confronted my fear of deep water and went swimming for the first time since leaving land. It took two attempts and  8 full minutes of sitting on the side of the boat but eventually I got in. I loved it – naturally. I always do, but the simple act of stepping over the edge and letting go of the boat freaks me out  – for reasons I still don't understand.

I bartered with myself this time, saying that with the impending storm on its way (which I know is going to be very scary and potentially painful) I was being a wimp if I didn't get in the water now (which I knew probably wasn't going to be at all scary, dangerous or painful). I am so daft but I guess that fear of letting go and getting out of your comfort zone is universal, whether or not you are over 6,000 metres of ocean blue.
 
Final fantastic news was my second birthday party yesterday, after I found a stash of cards tucked away in a locker. It wasn't obvious which were birthday cards and which good luck notes so I opened them all. Highlights included a bottle of bubbles and a beautiful piece of fluorite cut into a smooth disc for holding when you are scared. Perfect timing – thank you Heather and Cameron. My brother Michael had given me some gin tokens in Canadian dollars, so now I have a real incentive to make the other side.
 
I nearly forgot – the most fantastic news of the last two days has been the turtle who drifted by yesterday afternoon. I named him Taid – Welsh for Grandfather, in honour of my late Taid. Prehistoric looking, slow-moving and gentle.
 
And with that, I shall return to waiting for Rosie.
 
Until the other side,
 
Sarah and Gulliver x