Fat fliers should pay their own way, and not at my expense
Cathy Winston is not impressed that Airbus is proposing to shrink economy seats to make space for extra-wide aisles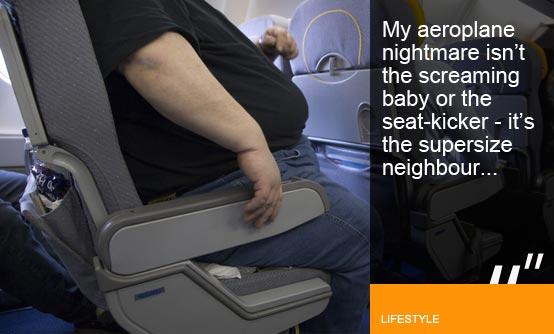 Everyone's got a nightmare plane story. But mine isn't the screaming baby (that's what earplugs and red wine were invented for). It's not even the fury-inducing seat kickers (back row in front of the toilets solves that).

It's the supersize neighbour.
I don't suffer from a fear of flying, but a fear of fat fliers is high up the list. It's not as if economy is known for being spacious even if you're 5ft 3ins and a size 12 like me, but someone spilling over the armrests is a shortcut to long-haul misery.

Airbus are planning to steal my already-cramped space
So you'd think I'd be applauding Airbus for proposing extra-wide 20-inch aisle seats in their planes to combat this ever-increasing problem. Except that they're planning to do this by stealing my already cramped space, cutting the middle and window seats down from a standard 18 inches to just 17.
And although the bigger seats are likely to cost more, who's ready to bet that the airlines won't be cutting the cost of the 'thin people' seats as a result?

No wonder 84% of people thought it was unfair, according to a Skyscanner survey. I can only assume the other 16% were trapped in a tiny window seat and unable to accurately register their own rage.

In any case, who decides why someone's decided to pile on the pounds?
But it's not enough to point a finger at the podgy and insist it's their fault for not laying off the cake. Around half of British adults are overweight, while experts believe a third of the UK could be obese by 2020.
Besides, who's to say why someone's piled on the pounds? Can you tell by looking if it's caused by a medical condition or massive meals? I can't.

And who makes the rules? The check-in assistant having a bad day who thinks you're the wrong side of curvaceous, or the airline which decides it's going to start weighing passengers along with their suitcases. That'll really be the icing on the cake of the airport experience.
As Ryanair already considered a fat tax in 2009, potentially including women over 15 stone, before deciding online check-in made it too complicated to collect, and Southwest airlines famously threw director Kevin Smith off a plane in 2010 when his size apparently made him a 'safety risk', I don't hold out too much hope for a sympathetic policy.
It's not enough just to say the biggest Brits should diet or pay up. Airlines need to work out a solution for people who won't fit into normal seats. But in the meantime, they can keep their hands off mine.

Cathy Winston has visited 55 countries (so far) and is already plotting journeys to the other 141. In between ignoring her unpacking, she's written for publications including National Geographic Traveller and the Independent, as well as starting her own blog, www.mummytravels.com​​.

Follow Cathy Winston on Twitter @cathywinston.
Let us know your views in the comments below. Join the debate on Twitter using the hashtag #socialvoices

Do you want to join our #socialvoices? We're looking for great new writers.
Welcome to #socialvoices. This is the home of sharp writing, opinion and social debate on MSN. Jump into the comments, tweet us with the hashtag. Join in.
No tweets available. Please try again later
Would you pay extra for a technology-free holiday?
Thanks for being one of the first people to vote. Results will be available soon. Check for results
Total Responses: 1,959
Not scientifically valid. Results are updated every minute.