Holidaying with your parents is not a holiday at all
Recession-hit adults are choosing to holiday with their parents - writer Warpdog won't be among them
A survey published last week shows that a third of parents now pay for their grown-up offspring to come abroad with them because their kids either can't afford it, or are saving for a mortgage.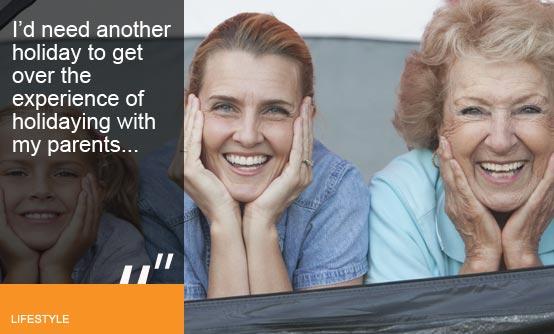 Go on holiday with my parents? I'd rather stick spoons in my eyes.
A few years ago my parents bought an apartment in Spain. I was delighted at the prospect of them being even further away until my mum gleefully announced that we could spend all our summer holidays together.

The thought horrified me and I mumbled something about being skint. My mum hit back with: "It's okay I'll pay for your flights". She even offered to pay for my boyfriend.
I needed a holiday to get over THAT holiday.
That's not an easy offer to turn down so we endured seven days of sightseeing and shopping - my mum even told me what to wear at one point. On the last day, my dad got us out of bed at 7am and frogmarched us to a spice museum 40 miles away. I needed a holiday to get over it.
So why would any self-respecting adult want to go on holiday with their parents?
With many adults moving back in with their parents due to high rent costs, spending a holiday abroad with them may seem like a natural progression. But I remember the days when a foreign holiday was taken as a decadent treat. We were lucky if we went to Butlins, let alone Benidorm.
A holiday is a luxury, not a necessity. Perhaps this willingness to go abroad, even if it involves getting up at the crack of dawn and being told what to wear, signifies that we've come to view holidays as a must-have even if we are broke.
Well some of us, anyway. I'm penniless most of the time but I'm not that desperate to go away again with my olds. I wake up in a cold sweat sometimes at the memory of my mother making me wear a sailor dress in Majorca when I was 16.
Surprisingly, it's 30 to 40-somethings travelling with parents.
Surprisingly it's not just hard up teens or twenty-somethings travelling with the parents. The average person joining their folks on holiday is now 30. That's pretty desperate. Yet a whopping 19% are over 40. That's just weird.
My parents still try to entice me away and now I tell them that I can't find anyone to look after the cat. I don't even have a cat! I may be skint but I'd rather go without. Bah humbug!
Warpdog is a copywriter and screenwriter and likes to grump about pretty much everything.

Follow her on @warpdog

Let us know your views in the comments below. Join the debate on Twitter using the hashtag #socialvoices

Do you want to join our #socialvoices? We're looking for great new writers
Welcome to #socialvoices. This is the home of sharp writing, opinion and social debate on MSN. Jump into the comments, tweet us with the hashtag. Join in.
No tweets available. Please try again later
Would you pay extra for a technology-free holiday?
Thanks for being one of the first people to vote. Results will be available soon. Check for results
Total Responses: 1,959
Not scientifically valid. Results are updated every minute.