Why travel is wasted on the young
Toddlers are officially better travelled than we ever were - but do they appreciate it, asks Bibi Lynch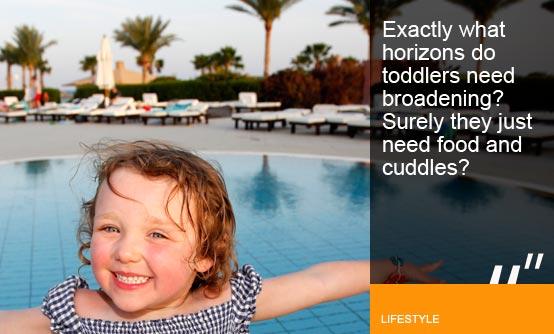 Prepare to choke on your piña colada… According to a survey conducted by flight comparison site Skyscanner, the average British toddler has visited 13 cities around the world by the time they're 3!


What in the name of St Thomas of Cook is going on? This is mind-boggling to me. I've only been to three cities in the last year — and one of those was Westfield so I'm not entirely sure that counts.
Travelling toddlers - it's a complete waste of an experience

This is a complete waste of fantastic travelling experience. I don't know how to break this to you, parents, but this isn't benefitting your kids in any way. Do you think you're broadening their horizons? Well, yes, you would be — IF THEY COULD REMEMBER THESE TRIPS!

My earliest memory is looking, longingly, through a shop window at a pair of clear plastic glittery Cinderella slippers. I was 27.


Okay, that's not entirely true: I do have some young travelling memories with my family (from when I was about 8, though) but they're not of where we were (Brighton or Swanage, usually, I think) — but of how I felt.

Mum cooking beans on toast in a caravan — and us laughing. Or sitting on a beach in the rain under a tartan blanket, drinking tea from a flask. Not laughing quite so much. At that age the surroundings didn't matter — just who I was with.

Your toddlers don't have horizons that even need broadening yet! Don't they just need food, sleep, cuddles, somewhere to toddle around, toys to play with, books to chew…?

Can that or can that not all be provided in Penge?

When my nephew was three, his two main obsessions were Ringo Starr and Batman. (Easily the coolest boy on Earth.) He wouldn't have cared a jot where in the world he was as he beat the hell out of his drums while wearing a cape.
This is more about the parents. Parents who can boast that their babies are that cultured. (I don't believe every parent who's taking their child away is doing so because of childcare/work issues.)

Ask yourself - what exactly will your children pick up from these travels?

If we ignore the 'your children's Carbon Footprint' issue here - a subject such parents I'm sure bang on about at dinner parties… - what exactly do you think your children will pick up from these travels? Malaria aside. A cultured international feel? A few key phrases in many languages?
Two words: Rosetta Stone. A few more words: buy them a boxset.
Such travels should be saved for people that will fully experience and enjoy such amazing life events — and who need the blooming holiday to escape the stresses and angsts of adult not-so-amazing life events.
Yes, of course, jetting around the world is a joy - a joy that should be available to everyone (although I am wondering how many working-class families were surveyed here…) - but at least ensure that 'everyone' is old enough to appreciate - or even notice - that they're somewhere fabulously alien to them.

It pains me to think of a toddler running down a lush green Swiss hill and thinking they're on the Teletubbies set…
What do you think? Are children better off for being well-travelled or could the money be better spent?

Bibi Lynch is a columnist, writer and broadcaster (for many publications/station​s, including: The Guardian, Grazia and BBC London radio). Londoner. Short.
Follow Bibi on Twitter @bibilynch
Let us know your views in the comments below. Join the debate on Twitter using the hashtag #socialvoices
Do you want to join our #socialvoices? We're looking for great new writers.
Welcome to #socialvoices. This is the home of sharp writing, opinion and social debate on MSN. Jump into the comments, tweet us with the hashtag. Join in.
No tweets available. Please try again later
Would you pay extra for a technology-free holiday?
Thanks for being one of the first people to vote. Results will be available soon. Check for results
Total Responses: 1,959
Not scientifically valid. Results are updated every minute.