Travel guidebooks must evolve or face extinction
As a prominent magazine sounds the death knell for guidebooks, Caroline Eden says they must change or die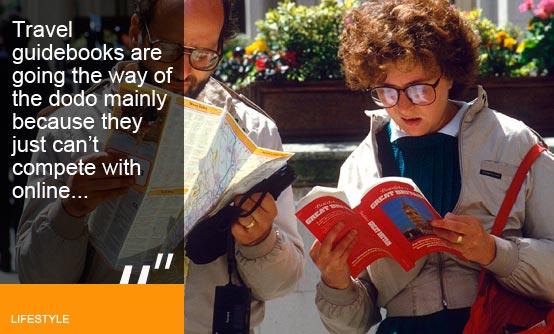 On my 11th trip to India, the time had finally come to see the Taj Mahal. In need of somewhere to stay, my 'trusty' guidebook sent me to a guesthouse that turned out to be a flea-pit – literally.

Swapping my book for instinct, I found a nondescript place down the road that turned out to be much cheaper, cleaner as well as offering 'hot water shower, 24 hour!' no less.
Sometimes it is actually better to have no guide at all.

 
The manager at the new hotel said that ever since the other hotel had 'been in the book' the owners had got lazy, while they tried harder to get business.
 
This proved that sometimes it is better to have no guide at all. And I'm certainly not alone – all of us have some painful tale to tell which involves an arduous trek to find a bar that closed down two years prior, or finding that the opening times for your once-in-a-lifetime sight has changed, and now you have quite literally missed the boat.


While as a travel journalist it's hard to let go of the nostalgia for a well-thumbed guidebook, the hard reality is that sales continue to nose-dive as online content grows. After all, who wants information that's two years out of date when you can read a guide posted two days ago?
 
Publishing giants AA Publishing have frozen commissions for new overseas travel guides, and even Lonely Planet has suffered a major write down in its most recent financial results.

Just last week book-trade magazine The Bookseller reported that industry insiders, Bowker, had found out that "websites and apps by non-traditional publishers are most useful for travellers." 
These days Twitter, online sites and apps are more useful.
And Bowker's right. Whereas once planning a holiday involved a visit to the bookshop, nowadays it's more likely that we turn to experts and locals on Twitter for live tips.
Apart from online travel magazines, blogs, and companies like Approach Guides who publish excellent digital travel guidebooks with good maps, there are plenty of apps like Stay.com, which allows you to put together your own city guide based on experts and your friends' recommendations.
Most are free - or affordable – all are easy to access and are cheaper - and lighter - than guidebooks. It's a fact that sales of printed guides are plummeting because publishers have been too slow to get to grips with new technology.
Guidebooks cannot compete with 'live' information either. A guidebook is little help if it's 2-3 years out of date (as it often is once it's been written, edited, marketed and put on the shelves), books won't guide you if there's a crisis and if things are changing quickly (unrest or just bad weather), maps (infamously inaccurate in guidebooks) cannot compete with GPS.  

The death of the guidebook will be a sad, sad day for travel. But unless publishers can find a way to translate their years of travel expertise online, that day will almost certainly come.  
What do you think? Do you use online sites more than a paperback guidebook?


Caroline Eden is a travel and lifestyle journalist who has written for Conde Nast Traveller, ELLE, National Geographic Traveller and more.

You can follow her on Twitter @edentravels

Let us know your views in the comments below. Join the debate on Twitter using the hashtag #socialvoices

Do you want to join our #socialvoices? We're looking for great new writers.
Welcome to #socialvoices. This is the home of sharp writing, opinion and social debate on MSN. Jump into the comments, tweet us with the hashtag. Join in.
Would you pay extra for a technology-free holiday?
Thanks for being one of the first people to vote. Results will be available soon. Check for results
Total Responses: 1,959
Not scientifically valid. Results are updated every minute.