Charging for hand luggage is simply churlish
Andy Jarosz says the move by Wizz Air makes the low-cost experience anything but
Just when you thought that low-cost airlines had dreamt up every possible add-on to their headline fares, another fee has come along that beggars belief. The latest in the ever-growing list of additional charges added to 'bargain' low-cost air fares is Wizz Air's creative fee for bringing larger items of hand luggage onto a flight.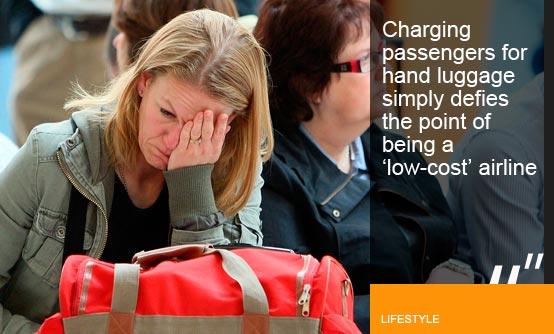 Basically if your bag can't fit under the seat in front of you, you'll have to pay. By charging people €10 to use the overhead bins, the airline says it is hoping to encourage passengers to check their heavy bags into the hold (and of course pay an even higher fee for the privilege).
Every time a fee is introduced, the feeble excuse usually trotted out is that the move will help the airline operate more 'efficiently' and offer passengers 'increased convenience and comfort'.

Wizz Air claims their new baggage policy has received 'positive feedback' although from whom it doesn't have the cheek to say – presumably its own Finance Director is particularly happy with the move.
Like most passengers I want my low-cost flights to be over as quickly as possible so that I don't have to spend a moment longer than necessary in the narrow brightly-coloured wedges that pass for budget airline seats.

This move lacks logic beyond extracting a few more euros.

I will support any sensible moves by airlines to find safe ways of getting all passengers on board in five minutes so that the crew can shut the doors and get on their way immediately. 
But this move lacks any logic beyond the simple purpose of extracting a few extra euros from the helpless travelling public.

Presumably the only way the airline can police this rule is making passengers put their hand luggage into a second measuring cage at the gate, and then making offenders pay with a credit card. How on earth does that help the airline to depart on time?
Like lemmings, we still book low-cost even when it clearly isn't.

Following on from web check-in fees, seat selection fees and credit card surcharges I'm hardly surprised at this latest ruse by a low cost airline. If they were operating a restaurant they would have offered us £5 steaks and then charged us an extra £7 to make a booking, £6 to sit with our partner, £3 for the cutlery and £2 to view the menu.

Having declined the £5 cloakroom fee we would now be told there is a £3 charge to hang our jackets on the back of the chair.
Of course we wouldn't stand for it in a restaurant and would go to an alternative place that didn't keep trying to fleece us at every opportunity.

Yet rather like lemmings, people still refuse to give up the chase for budget airline bargains with low headline prices, even when they are anything but cheap once the whole ordeal is finished and all the little charges have been added up.
What do you think? Do you feel low-cost airlines are taking people for a ride, or are they still a bargain despite all the extra fees?
Andy Jarosz is a freelance travel writer who writes for various publications including BBC Travel, National Geographic Traveller and Coast magazine. 

Follow Andy on @501places
Let us know your views in the comments below. Join the debate on Twitter using the hashtag #socialvoices



Do you want to join our #socialvoices? We're looking for great new writers
Welcome to #socialvoices. This is the home of sharp writing, opinion and social debate on MSN. Jump into the comments, tweet us with the hashtag. Join in.
No tweets available. Please try again later
Would you pay extra for a technology-free holiday?
Thanks for being one of the first people to vote. Results will be available soon. Check for results
Total Responses: 1,959
Not scientifically valid. Results are updated every minute.