So it rains in Britain? Deal with it!
Scenes of soggy Britain during the Jubilee won't put tourists off visiting, says Sophie Robehmed
Since when has the weather been at the top of the list of reasons why people visit Britain?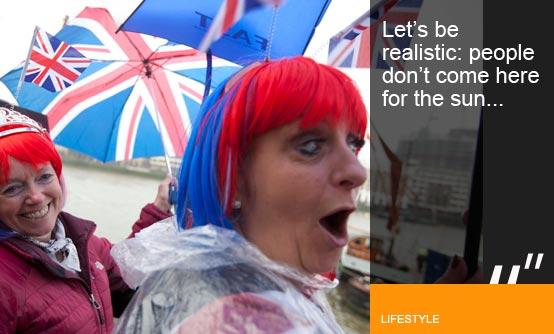 Judging by the backlash following scenes of rain-soaked Jubilee celebrations (pundits have said it might put people off from visiting), you'd think we were on par with the Caribbean, climate-wise.

It might feel like it's been raining forever, but I think the way us Brits battled the elements to celebrate the Queen's Diamond Jubilee did the opposite.


We're British - surely we're used to the rain?


It showed the best of British – our unstoppable patriotic spirit while showcasing iconic sights up and down the country – on a worldwide stage. Why would we let a drop of rain stop us from doing anything anyway? We're British! We're used to it.

Besides, people generally don't come here for the sun: more often than not, it's for the history, stunning scenery, to experience 'typical British weather' chat, and other inevitable British rites of passage like fish and chips at the seaside.

It's a dead cert it'll rain during Wimbledon
On the subject of what our nation has to offer, let's not forget Wimbledon. This year, like those before, will be no exception: it will rain. But does that mean people will stop queuing from dawn until dusk to gain access into the oldest, arguably most prestigious, tennis event in the world? Absolutely not.

Come rain or shine, tennis enthusiasts from home and abroad will be there, huddling under their umbrellas, shoveling strawberries and cream into theeir mouths, soaking up the atmosphere without letting the inconsistent weather rain on their parade. (Puns intended.)
There's nothing we, and tourists alike, can do about our changeable climate so we'd be far better off donning our best brollies, boots and joie de vivre and embracing whatever the sky throws at us instead.


Sophie Robehmed is a Devonian Lebanese writer and journalist. A lover, not a fighter. Loves cheese. Searching the world for her doppelgänger. 
Follow Sophie on Twitter @sophierobehmed
Let us know your views in the comments below. Join the debate on Twitter using the hashtag
#socialvoices
Do you want to join #socialvoices? We're looking for great new writers.
Welcome to #socialvoices. This is the home of sharp writing, opinion and social debate on MSN. Jump into the comments, tweet us with the hashtag. Join in.
No tweets available. Please try again later
Would you pay extra for a technology-free holiday?
Thanks for being one of the first people to vote. Results will be available soon. Check for results
Total Responses: 1,959
Not scientifically valid. Results are updated every minute.