Rip-off rates for hotel wi-fi has to be one of our biggest bugbears - it's time it stopped.
The end is in sight, says David Whitley, as a hotel chain scraps its internet charges, but there's still a long way to go.
Hotel company Accor – which includes the Mercure, Novotel and Ibis brands – has decided to scrap wi-fi charges in 500 of its hotels.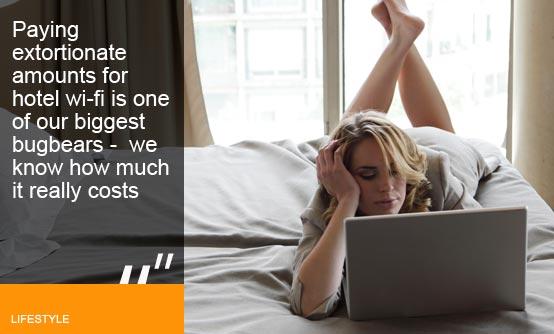 This, it seems, is something we're supposed to be grateful for. But it's hardly groundbreaking stuff.

Stay at a cheap chain motel in the US or a guesthouse in South East Asia, and the internet access will more than likely be free. And if the budget accommodation brands can offer this, there's no reason why mid-range and luxury hotels can't either.

A few brands have already bowed down to the inevitable on this and now offer free in-room internet access as a matter of course. Best Western does it, Shangri-La does it. Andaz does it.

But many more big hotel chains treat internet access as a cash cow, figuring that their guests have no option but to pay it.

Stay at the Hilton London Tower Bridge, for example, and you'll pay £15 for 24 hours' access. Meanwhile, the Crowne Plaza London St James hits guests up with a £9.99 bill if they want a day's access.
The issue comes when the charge is so ridiculously high.
I've seen far worse abroad – I remember paying the equivalent of £20 or more in Switzerland and Australia.
The problem isn't necessarily that web access is charged for, however.
Premier Inn
, for example, charges £3 a day – and that seems reasonably fair given the relatively cheap room rates.
The issue comes when the charge is so obviously extortionate. Virtually every traveller trying to get online in their hotel room will have internet access at home. And they know what they pay for their monthly broadband deal.
Even at the more expensive end of the scale, they'll not be paying any more than £2 a day – and that usually includes phone lines and TV channels.

So when a traveller sees exorbitant charges of £10 or more for a day's wi-fi access at a hotel, the only logical conclusion is that they are being completely ripped off.

Ask why they charge so much, and hotels will come up with all manner of excuses – such as being tied into expensive contracts with service providers or people hogging bandwidth by streaming videos.
They know you know much it really costs - and they don't care.

But the excuses are a front. The real reason they charge so much for wi-fi is because they don't care what you think. You're not guests – you're numbers on the balance sheet.

They know that you know how much it really costs. They know that you know you're being ripped off. And they couldn't care less as long as you keep handing over the cash.

That doesn't feel good, does it? And this is the reason why Accor has decided to ditch the wi-fi charges. It's not an altruistic attempt to do the right thing – it's a response to a stream of complaints about the previous policy.

Accor feared that customers would go elsewhere after finally snapping at the outrageous internet charges.

You can only treat people as if they're stupid for so long. And hopefully the other hotel chains will realise this very soon.

What do you think?


David Whitley writes about travel for the likes of National Geographic Traveller, the Sydney Morning Herald and BBC Travel. He blogs at GrumpyTraveller.com and his book – Hardly Paradise: Anti-Postcards From A Grumpy Traveller – is out now.

Follow David on Twitter.
Let us know your views in the comments below. Join the debate on Twitter using the hashtag #socialvoices

Do you want to join our #socialvoices? We're looking for great new writers.
Welcome to #socialvoices. This is the home of sharp writing, opinion and social debate on MSN. Jump into the comments, tweet us with the hashtag. Join in.
No tweets available. Please try again later
Would you pay extra for a technology-free holiday?
Thanks for being one of the first people to vote. Results will be available soon. Check for results
Total Responses: 1,959
Not scientifically valid. Results are updated every minute.