Hotels are charging rip-off rates to those visiting the Games. Not cool.
Nikki Bayley is not impressed at the message it's sending to new visitors
Today's face-palm moment came from a report, which claims hotels are charging premiums of up to 300% to those staying in London during the Games.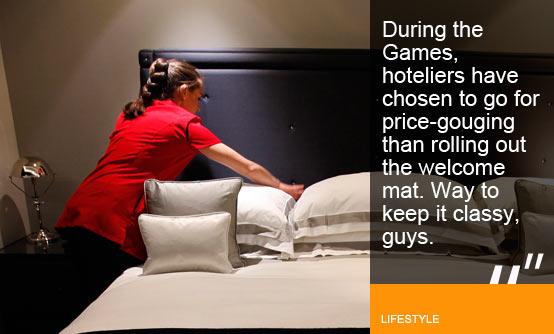 At a time when we have the chance to show off our capital to the world, some hoteliers have chosen to go for price gouging over rolling out the welcome mat. Way to keep it classy, guys. 
No one likes to be treated like a wallet on legs.
I understand the idea that 'the market will pay what it will bear,' but we live in a world where happy customers equal repeat customers. And if you treat someone like a walking cash-machine, rather than like a welcome guest, they won't be coming back for more. 
I got treated like a wallet-on-legs in Naples and quite frankly, they can bite me. I'll not be going back in a hurry and have slated them ever since.

I'm not expecting that businesses won't raise the rates at all but to do so in such ridiculous proportions just because someone's throwing a javelin that day in East London, is making sure that customer never comes back.
London already has a bad reputation for being expensive. Now this nose-in-the-trough attitude just adds 'greedy' to London's rap sheet. Is being ripped off by hoggish hoteliers really the London legacy that we want visitors to take home with them? 
I had a Twitter bust up over this with Tune Hotels back in June. They're a great budget chain with branches across the world. Their lead-in price at one location is £35 a night, so in theory, you should be able to book ahead and get that rate at any time. Unless it's during the Olympics when it was £99 no matter what.
The Olympic ideal of fairness only seems to extend to the Games


To me (and anyone else with a basic ability in maths) that's a tripling of the rate. To the hotel, they stoutly denied such a terrible thing.
And it's not just me that thinks it's an own goal. According to European Tour Operators Association latest research, "the Olympic Games have routinely brought the host countries' tourism industry a catastrophic mix of high expectation and low demand." 


Ouch. Shame that the Olympic ideal of fair play only extends as far as the boundaries of the park. 

Do you think it's reasonable for hotels to hike their rates so high?


Nikki Bayley writes about travel and lifestyle for Glamour, Sunday Times Travel magazine, The Sun and xojane.co.uk.

If you like tweets about food, politics, travel and the difficulties of giving up swearing follow her @nikkibayley.
Let us know your views in the comments below. Join the debate on Twitter using the hashtag #socialvoices

Do you want to join our #socialvoices? We're looking for great new writers
Welcome to #socialvoices. This is the home of sharp writing, opinion and social debate on MSN. Jump into the comments, tweet us with the hashtag. Join in.
No tweets available. Please try again later
Would you pay extra for a technology-free holiday?
Thanks for being one of the first people to vote. Results will be available soon. Check for results
Total Responses: 1,959
Not scientifically valid. Results are updated every minute.