London just isn't worth the expense anymore
The capital is officially the world's most expensive city, which is why Bibi Lynch has to leave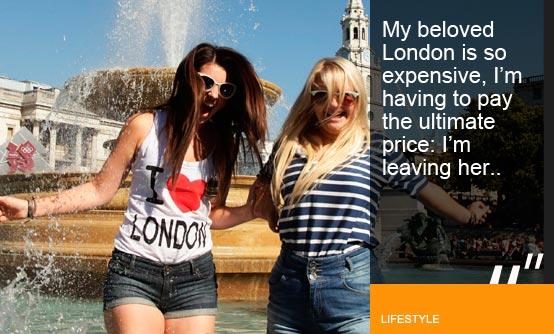 I love London with all my heart. And because of a frankly disgusting saturated fat-based diet, that is a lot of heart.

Bar four years (when my family moved to a village in Sussex where we were the Cockney 'entertainment'), I have lived my entire life here. That's 46 years born and bred London living and loving.
The beauty of this city still takes my breath away; the energy of it still excites me; and that view from Waterloo Bridge: wow. That 'almost all of London in a sweep' landscape - the architecture, the arts, the history, the modernity - moves me every time.

It calms me (home. I am home. This is my home) and inspires me, too, — this is London, baby, the city where anything is possible!
The last flat I looked at was an expensive hellhole with a half-bath
Unfortunately, what is really possible in London right now is bankruptcy. A Tripadvisor survey has just declared London the most expensive city in the world. It's enough to make any Londoner choke on their £8 glass of Sauvignon Blanc. We pay £15 for cinema tickets, £5 an hour parking and  sinful property prices.
The last flat I looked at, a hellhole in my beloved Kentish Town, had a half-bath, missing floorboards and, no doubt, the head of the last tenant in the freezer. That joke of a 'home' was available at £1,400 per month. I repeat, sinful. 
London is so expensive, I'm having to pay the ultimate price. I am leaving her. Oh God. This is an unbelievably big deal for me. Not only is London my longest relationship (I know), I am just so proud to be a Londoner. I identify myself as a Londoner.
See you later, London, and hello, er, Manchester

And it sort of breaks my heart to end this affair. But it will never really be over. In the words of Highgate-born Rod Stewart (I'm quoting Rod, people. I'm that emotional), 'You're in my heart, you're in my soul… You're my best friend'.


But leave I must. Farewell you stunning, innovative, creative, multi-cultural, cultured, intoxicating mistress. And hello to one of the few English cities I'm told is worth living in. A city with an equal edge. A city its inhabitants love as passionately.

Yes,  Manchester, I'm cheating on London with you. You better treat me good.

Bibi Lynch is a columnist, writer and broadcaster (for many publications/station​s, including: The Guardian, Grazia and BBC London radio). Londoner. Short.
Follow Bibi on Twitter @bibilynch
Let us know your views in the comments below. Join the debate on Twitter using the hashtag
#socialvoices
Do you want to join #socialvoices? We're looking for great new writers.
Welcome to #socialvoices. This is the home of sharp writing, opinion and social debate on MSN. Jump into the comments, tweet us with the hashtag. Join in.
No tweets available. Please try again later
Would you pay extra for a technology-free holiday?
Thanks for being one of the first people to vote. Results will be available soon. Check for results
Total Responses: 1,959
Not scientifically valid. Results are updated every minute.