Airlines to pay compensation for flight delays - it's about time
Warpdog hopes that the new ruling will include the UK, but worries airlines may just wriggle out of it regardless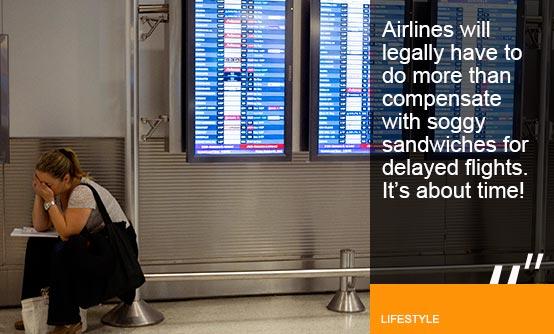 We've all been there. Delayed at an airport. Thinking it would be impossible to be more bored as we browse duty free for the thousandth time. And if we're really lucky, a nonchalant airline rep will hand over a voucher for a soggy sandwich and a lukewarm coffee.
But now, if your flight is delayed for more than three hours, thanks to new EU regulations passed yesterday, your airline might have to do a bit more. The pivotal bit is that the European Court of Justice has ruled that mechanical problems don't constitute as "extraordinary circumstances" - and too right. An Icelandic volcano we can understand, technical problems not so much.
What's shocking about this ruling is that it has taken this long to arrive. Technical faults and mechanical issues should never have been classified as extraordinary circumstances. If an aeroplane fails it's the airline's fault, rather than an act of God's.
"British airlines are among the biggest culprits in delayed flights."
Moreover, it's galling that we've had to wait for the EU to help us out with this - especially since two of the UK's most well-known airlines have the longest delays in Europe.
In just one month, over 5,000 Easyjet flights were delayed but British Airways won the battle of the lame with a whopping 6,314 delays, coming second only to Lufthansa. Given that 25% of British Airways flights are either delayed or cancelled, the change is most welcome and couldn't have come any sooner.
But I won't be unwrapping the party poppers just yet. Like most cynics, I'm sure passengers will need to prepare themselves for more delays being branded 'extraordinary circumstances' once airlines are forced to fork out compensation.

Current extraordinary blights include thunderstorms, snow and terrorist attacks. However airlines have argued in the past that mechanical faults and even air traffic control problems are exceptional circumstances.
"I don't know whether I want cash or to just be treated nicely."
Two years ago, Ryanair somehow managed to persuade a district judge that one of their flights, delayed due to a technical fault, was an 'extraordinary circumstance' and won a court case against a disgruntled passenger.
But really - I don't know if it's monetary compensation that we're after, or just wanting to be treated a bit decently.
I've been delayed many times and the different levels of customer services offered by airlines never ceases to amaze me: from British Airways, who promptly put me on another flight and let me use their phone to make alternative arrangements, to Ryanair, who quickly closed down their customer services desk and scuttled away, leaving me with nothing to do apart from try on every single nail polish at Marrakech Airport.
So - what would you prefer? An airline to treat you decently or compensate you in cash?


Stats courtesy of (flightstats.com)
Warpdog is a copywriter and screenwriter and likes to grump about pretty much everything. Follow her on @warpdog
Welcome to #socialvoices. This is the home of sharp writing, opinion and social debate on MSN. Jump into the comments, tweet us with the hashtag. Join in.
No tweets available. Please try again later
Would you pay extra for a technology-free holiday?
Thanks for being one of the first people to vote. Results will be available soon. Check for results
Total Responses: 1,959
Not scientifically valid. Results are updated every minute.