Dubai's idea to replicate the Taj Mahal is the laziest tourism idea ever
Shah Jahan is probably turning in his grave as we speak, says Poorna Bell
I've never been to Dubai, and with news of their latest development, it's unlikely that I ever will.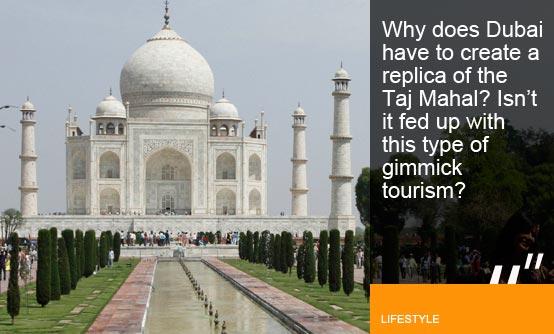 Locked in a relay race with Las Vegas to build the fastest, tallest, longest, hairiest (insert name of sight here), Dubai has just announced plans to build a replica of the Taj Mahal.

As if it isn't bad enough that Dubai's architects are copying one of India's most poignant pieces of architecture, a love poem written in marble from an emperor to his wife, they are turning it... into a hotel.


So whereas the original is a mausoleum to the empress Mumtaz, Dubai's version will have rooms and shops, where you can buy a box of dates or have your shoes shined. Oh, and it wouldn't be Dubai if they weren't making FOUR TIMES BIGGER.  
The fact is, replicas are an affront to everyone.

If Shah Jahan was still alive, I'm sure he'd be pretty cheesed off that the country building a replica of his beloved building is a three-hour flight away. Worse still, it's sharing space in a giant zoo of other replicas  - rubbing shoulders with the Pyramids and the Leaning Tower of Pisa in a development called Dubailand.


The fact is, replicas (unless they are meant in a tongue-in-cheek, crazy golf sort of way) are an affront to everyone: including the general public and the person who actually dreamed up the initial design.

It's like drinking a glass of orange juice only to find out it's watered-down squash. And the decision to build them speak volumes about the company developing it. We don't have an iota of creativity, they seem to say, so we're just ripping off another building.

Dubai should commission its own architects to build a masterpiece
It's not like these babies come cheap, either. They aren't made out of paper or polystyrene – this new 'Taj Arabia' is estimated to cost around $1 billion. Wouldn't that money have been much better spent on Zaha Hadid? Or even to champion Dubai's architects, because that would be something to write about.

I'm not a fan of one-upmanship tourism. And Dubai really has to do better than this kind of gimmick tourism because it really doesn't say much about the kind of legacy it's leaving, or the kind of contribution it's making to the world in terms of culture and beauty.

It should take notes from Singapore, which has invested in showstopper buildings that have wowed the world over. Or from nearby Abu Dhabi, which is slowly stealing its thunder with better, more worthwhile initiatives such as eco-tourism.

What do you think? Join the debate on Twitter using the hashtag #socialvoices.
Welcome to #socialvoices. This is the home of sharp writing, opinion and social debate on MSN. Jump into the comments, tweet us with the hashtag. Join in.
No tweets available. Please try again later
Would you pay extra for a technology-free holiday?
Thanks for being one of the first people to vote. Results will be available soon. Check for results
Total Responses: 1,959
Not scientifically valid. Results are updated every minute.