So what if most of us are addicted to our mobile phones when on holiday?
Nikki Bayley says you can have her phone - when you prise it from her dying grip
Hello, my name is Nikki and I am a nomophobe. I have a raging fear of discovering I have no access to mobile technology. But I'm not alone in my addiction to being constantly-connected​; a new survey from TripAdvisor has revealed that over two-thirds of Brits have been on holiday with someone who refuses to be parted from their mobile phone.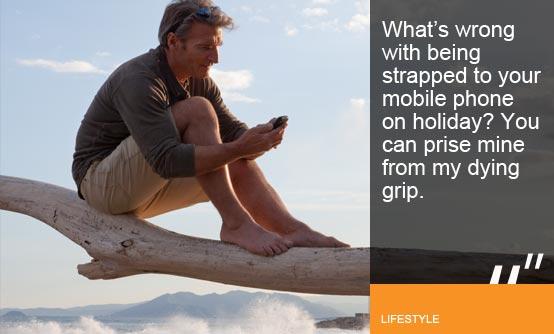 Why do people have such a problem with it? Surely the world of travel has evolved beyond taking a map and a compass to explore the reaches of the world.


I travel a lot and I almost always travel alone. I would literally be lost without my smartphone.

The map function is my lifeline when it's dark, I'm tired and by myself and just want to find my hotel or a good restaurant fast.

It's not useful for maps - it's a social necessity too.

And yes, I know what you non-nomophobes will say, 'Why don't you ask someone?' Well, I often do, but what should I do when there's no one around? And how will someone in the street link me to reviews of where I'm going and help me decide whether unfamiliar local restaurant A is better than unfamiliar local restaurant B? 
But let's be honest, it's not just handy apps like maps and so on that make having a smartphone by your side all day and all night a social necessity, there's the fun of sharing that experience too.

Just a few years ago you'd have to wait until your photos came back from the chemist to show bored people your blurry beach shots and close-ups of unrecognisable foreign food delicacies. No more. Now you can make sure you get a perfect shot, upload it online  and within seconds share that with everyone on Facebook and Twitter. 
Smug folk who boast-post on Facebook have given us a bad name
I can already imagine you non-nomophobics pouting about 'boast-posting' and yes, 64% of Brits admit to posting an update or photo of their travels on to a social media site to make those at home jealous.

And okay, while I groan at the people who've obviously just visited some amazing world landmark, and who rather than revelling in the moment have chosen to take a picture and instantly post it up, I love the conversations that get started because of 'boast-posting', the recommendations that I get and the new people I start talking to who've responded to a hashtagged image.


But there's an easy fix if you don't like it; you know where the unfriend/unfollow button is, right? 

Tell me what you think. Are you a fellow nomophobe or does the idea of having your mobile on holiday with you terrify you?
Nikki Bayley is a travel writer who can be found Twitpic-ing pretty much everything @nikkibayley She also blogs about her new life in Canada.  
Welcome to #socialvoices. This is the home of sharp writing, opinion and social debate on MSN. Jump into the comments, tweet us with the hashtag. Join in.
No tweets available. Please try again later
Would you pay extra for a technology-free holiday?
Thanks for being one of the first people to vote. Results will be available soon. Check for results
Total Responses: 1,959
Not scientifically valid. Results are updated every minute.