Boris is right, Londoners do need to stop whinging about the Olympics
Sophie Robehmed may not like how busy her city is, but we are talking about a once in a lifetime event.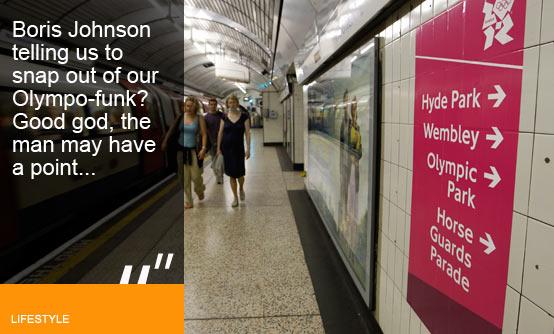 Boris Johnson telling us to "put a sock in it" about our "Olympo-funk" may not be the best tactic to soothe cranky Londoners moaning about how busy the tube, buses, trains and roads are at the moment, but the man may have a point.  


Sure it may be hard to examine the logic with an extra five elbows rammed into your back than usual (my advice is to adopt the foetal position on the floor) but we may as well sit back and embrace the chaos.

After all, once the Games kick off, it's going to get a whole lot worse: an additional three million journeys in London on the busiest days.
And, although the prospect of PEOPLE EVERYWHERE, not being able to board packed the tube and subsequent delays understandably fills a lot of us with dread, the inconveniences for the next few weeks are very much worthwhile in the long term.
It's the one event we can be proud to say "we were there"
To begin with, it's a once in a lifetime event. We haven't hosted the Olympics since 1948, and probably won't happen again here during our lifetime.  Or at least at a juncture when you are still eating solid foods.
It's also one of those rare opportunities where we can soak up history on our doorstep and take satisfaction that "we were there".
Whether it's witnessing the Olympic flame pass through your hometown, sat in the Olympic park or even watching it from the comfort of your own living room – you're a part of it and will be a part of its legacy. And quite the legacy it is too, with this year's event making London the first city to have hosted the Olympics three times.
But even if you don't give two hoots about sport, London 2012 is doing much more than making history. It's creating jobs and boosting the economy.

Around 200,000 people will be working at the Games – more than 6,000 staff, 70,000 volunteers and 100,000 contractors. That's a lot of work opportunities for people that might be otherwise unemployed.
Apart from visiting the Games, those tourists will be flashing the cash
Meanwhile those masses of tourists that you mutter at under your breath (an estimated 500,000 people, by the way) are flashing their cash in nearby Westfield Stratford City and across the capital, and will no doubt help turn around slumping retail sales for June after the wet weather dampened our shopping spirit.
I know it'll be hard to remember this when you're pushed up against the glass and a woman wearing stilettos, is standing on your foot. But know that throbbing pain you feel in your big toe will be worth its weight in gold for this nation – and hopefully for Team GB too.
What do you think? Should we put up and shut up, or are we right to complain?

Sophie Robehmed is a Devonian Lebanese writer and journalist. A lover, not a fighter. Loves cheese. Searching the world for her doppelgänger. 
Follow Sophie on Twitter @sophierobehmed
Let us know your views in the comments below. Join the debate on Twitter using the hashtag #socialvoices
Do you want to join our #socialvoices? We're looking for great new writers.
Welcome to #socialvoices. This is the home of sharp writing, opinion and social debate on MSN. Jump into the comments, tweet us with the hashtag. Join in.
No tweets available. Please try again later
Would you pay extra for a technology-free holiday?
Thanks for being one of the first people to vote. Results will be available soon. Check for results
Total Responses: 1,959
Not scientifically valid. Results are updated every minute.