It's not worth getting upset about the Admiralty Arch being turned into a hotel
David Whitley reckons the monument wouldn't even make it into a Britain's top 20.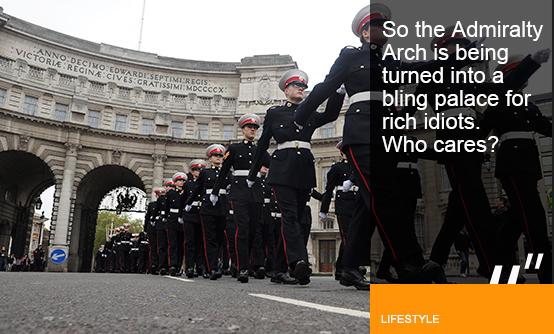 When a piece of British heritage is sold off to be turned into a gaudy bling palace for the absurdly rich, I feel I should probably get angry.


But the news that London's Admiralty Arch is to be flogged to Spanish developer Rafael Serrano for £60m makes me feel something of a traitor. I should care that one the nation's great monuments is being pimped out like a plastic toy with a Happy Meal.

I should be protesting that it hasn't been turned into a museum so the public can enjoy it. I should be enraged about a tribute to Queen Victoria being turned into a shrine to ostentatious money-flinging.
But the truth is that it really doesn't matter all that much.
"It's not as if we're selling the Tower of London."


For all the pompous bluster about Admiralty Arch being a national treasure, I bet it wouldn't feature in most people's list of top 20 London landmarks. In fact, it would struggle to get into the top 50.

It's not as if we're selling off the Tower of London and turning it into a car park for Qatari-owned Bugattis or making St Paul's Cathedral a high end brothel for oligarchs.

The sad truth is that Admiralty Arch has been standing empty at the cost to the taxpayer of £900,000 a year. It's like a nice but ultimately useless piece of furniture that is kept in the garage because it just doesn't fit in the living room. 

London isn't exactly short on monuments. Admiralty Arch is one of the spare ones. We can afford to let it go.

But could it be turned into something better than a luxury hotel? Rafael Serrano is the man behind the Bulgari Hotel in Knightsbridge – London's most expensive with rooms starting at £850 a night.

"If Serrano wants to fit the Arch with silver unicorns, let him."

It has been nicknamed the Vulgari due to its unabashed bling factor. And it's highly likely that Admiralty Arch will be turned into something similar, given the astronomical sum it will take to develop the monument.
Could it not be turned into a museum instead? Well, that's a fine idea, but London's not exactly short on them either. And no one has come up with a viable idea for a museum to put inside Admiralty Arch that would pull in enough visitors to make the cost of the development even vaguely worth it.
So if Serrano wants to fit the Arch out with golden fountains and fill every suite with satin-draped silver unicorns, does it really matter? It's not as if we'll get to see the tasteless tackfest inside. And if idiots with more money than sense want to pay the best part of a grand to stay in a laughably OTT sparkling bedroom, then is that really doing anyone any harm?
It's a move best filed under picking your battles. There have been far worse planning decisions in the past, and there will be far worse in the future. We're probably better off letting Admiralty Arch go under a blanket of apathy - and saving our righteous indignation for something that really matters.
What do you think?
Freelance travel journalist David Whitley blogs at GrumpyTraveller.com and is @MrDavidWhitley on Twitter.
Welcome to #socialvoices. This is the home of sharp writing, opinion and social debate on MSN. Jump into the comments, tweet us with the hashtag. Join in.
No tweets available. Please try again later
Would you pay extra for a technology-free holiday?
Thanks for being one of the first people to vote. Results will be available soon. Check for results
Total Responses: 1,959
Not scientifically valid. Results are updated every minute.